After a week of a lot of writing and e-mailing and a couple of frantic moments where I was sure that my Database Management project would never work (it totally does and you should check it out here, if you're ever looking for a podcast to listen to) I have finished my first year of grad school, which doesn't seem real at all. (But that may just be because I'm catching up on a sleep deficit…)
Anyway, to celebrate Miró and I went to see All The Way at the Zach Theatre last night. I was first aware of this play (written by Robert Schenkkan), because it won all of the Tony's last year, including one for leading man Byran Cranston, and because it's now going to be a HBO miniseries. So I was really excited to see it on the wall of the Zach Theatre months ago as I was riding down South Lamar.
For the most part I was not disappointed. The play follows LBJ from the day after he takes the oath of office until election night in 1964, which means that we get a glimpse into the aftermath of Kennedy's assassination, the very beginnings of what will become the disaster of our involvement in Vietnam, and most notably the passing of the 1964 Civil Rights Act. I've always thought of this as the "LBJ Play" and it definitely is, but what was so refreshing was the way that Schenkkan shows all the different constituencies that Johnson was dealing with and trying to placate. He doesn't pull any punches and I feel like I actually understand this moment in political history better now than I ever have before, because he was able to interweave the timelines in a way that I don't think ever were in any history class.
Miró and I talked a lot at the end about how dirty it makes politics look, how personal loyalties and convictions always at some point get put on the table as collateral or sacrifice. And that's heartbreaking, and there's a lot of heartbreak in this show, there are just enough moments where LBJ, played wonderfully here by Steve Vinovich who was Cranston's understudy in the New York run and looks eerily like the real life man he's portraying, shows his real insecurity, vulnerability and compassion, that you root for him.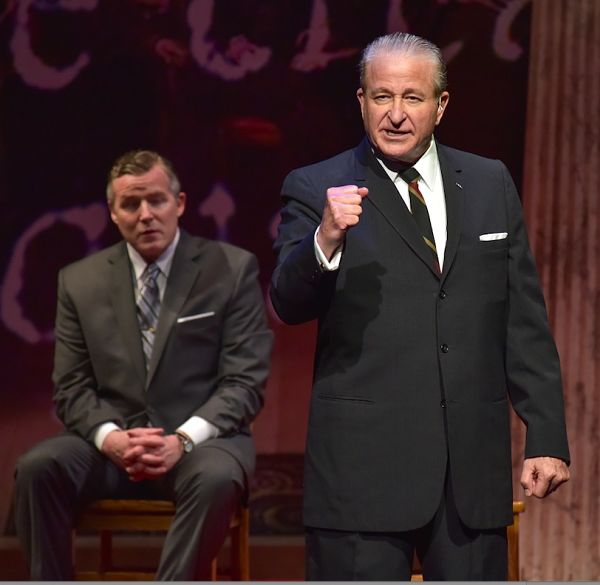 I'm reading Henry VI, Pt. I right now for my Shakespeare Project, and I kept thinking how much this felt like a "history play" for an American mythic figure. Meaning, it was attempting to show us something about our current moment and how we got here, so many of the speeches from the politicians sounded exactly like debates we are having today about different prejudices/freedoms (and some of the same) and it was important to be reminded that this is all connected to our history.
This was especially true during the most moving sequence, a funeral scene for murdered Civil Rights worker James Chaney, that gets interrupted by CORE organizer David Dennis (Delante G. Keys) delivering an incredibly powerful monologue about how he is tired for black men being murdered by white men, that had me sobbing and shaking in my chair.
There are about 5 more stories from the show that I wanted to go home and Google to make sure they were true (they were…), but I don't want to ramble on. If you're in town (or this show opens up in your town) you should definitely go.
The show runs through May 10th, at the Topfer Theatre at Zach 1510 Toomey Rd.